There is FRESH hope for thinning hair: Stemoxydine, a new ingredient to come out of the L'Oréal laboratory, this product regime aims to 'reawaken' dormant hair bulbs and encourage growth. It's a key ingredient in L'Oréal Professionnel Serioxyl. Apply the drops daily to your scalp and massage in – and then be patient. New hair grows slowly, so expect to see results in about 3 months. With continued use you will grow 1700 new hairs in 3 months!*
The system consists of four products:
– An Everyday Treatment for Denser Hair
– A Clarifying Shampoo for Coloured and Thinning Hair
– A Bodifying Conditioner for Coloured and Thinning Hair
– A Densifying Mousse for Coloured and Thinning Hair
Thinning can start in a subtle way. Noticing more stray hairs in the show as your shampoo; not being able to wear your parting as your used to; or a sunny photograph that highlights some 'see through' areas. Whether its moderate thinning or more severe hair loss, it can be worrying. However this is not simply vanity. We believe that our hair is tied up with our identity, and so it is extremely important that those of us with thinning hair should be well aware of all the facts.
The words thinning and loss are often used interchangeably when it comes to hair, but there is a difference. Hair thinning can be where the diameter of each individual hair reduces and each strand becomes weaker and fine over a long period of time. Hair loss is where we experience excessing hair fall beyond the normal amount that we shed daily. Either way, the overall result is that we feel that we're losing volume. If you are concerned it is important to seek expert help, for example you GP can recommend the best course of action for you.
Those of us with thin hair can all do some things to make our hair look denser and feel thicker. If you use the right products then washing your hair can actually help make your hair feel thicker, shinier and easier to style. Those specially formulated for thinning can also help maintain a healthy scalp, and lightweight conditioners will add shine without weighing the hair down.
Thin and limp is to hair what crow's feet are to eyes – ageing. And with 70% of us wishing we had thicker locks, L'Oréal has answered our prayers. Serioxyl Thicker Hair serum plumps hair thanks to it's fibre-boosting ingredients, which fills gaps in the shaft caused by ageing. The result? More voluminous hair – hurrah!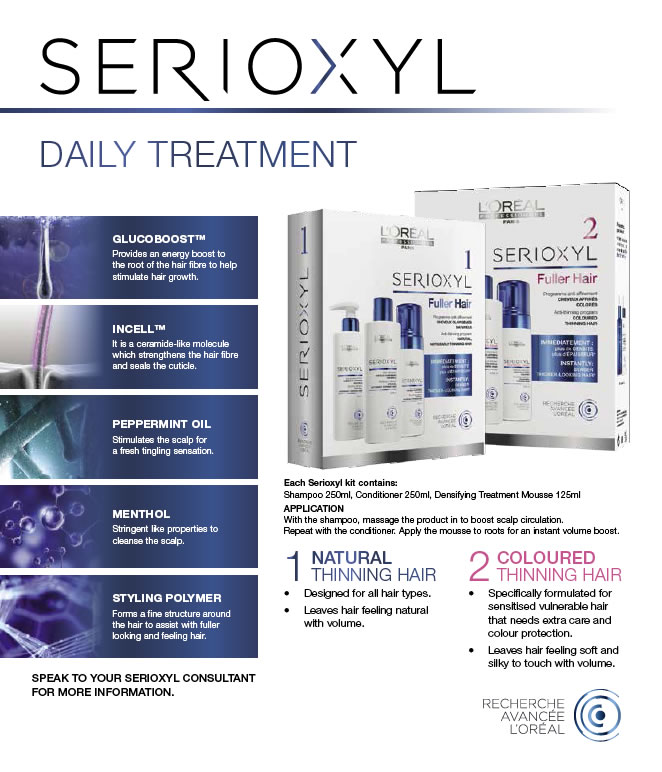 Thinning Hair Q&A
Q: How many hairs do I lose on average each day?
A: It is entirely normal to loose hair throughout the day as a result of the reproduction of new hair. On average we can lose between 60 to 100 hairs daily, so don't panic if you notice hairs in your hairbrush!
Q: What causes thin hair?
A: There are many reasons why your hair may not be as thick as others, some of which are temporary and some that are more long-term.

Your look can be maintained by your hairdresser with the right cut, style and homecare programme.
Q: What are the signs that my hair is thinning?
A: The first sign that your hair is thinning is that it feels lighter in weight, with less volume especially in the root area. Your parting may also become more visible.
Q: How can I style my hair at home to make it look thicker?
A: Making your hair look thicker at home starts in the salon, as getting the right cut and colour is a great way to help add the look of thickness. Speak to your hairdresser and they can advise you on the best style that is suited to you. At home, however, use a thickening shampoo and conditioner along with volumising styling products. This can make your hair look thicker and re-energise your style.