Our unique ingredient
It all comes down to the unique ingredient. bhave™ is the first Australian brand to introduce the benefits of a patented raw natural keratin technology into their hair care range. This gently extracted, fully bioactive keratin protein is naturally derived and gently extracted from the wool of New Zealand sheep* keeping critical amino acids and proteins intact.
This keratin has the unique ability to penetrate the hair shaft and is able to bind to severely damaged hair, rebuilding the internal structure and restoring strength, elasticity and shine to damaged hair, rebuilding every strand of hair from the inside out. It works on all hair types protecting and repairing damage, leaving hair more manageable, shiny, silky and smooth. These rich ingredients significantly boost hair strength, condition and manageability.
And it ticks all the boxes:
✓ Australian owned
✓ Not tested on animals
✓ Free from parabens, sulphates and sodium chloride
✓ Certified organic ingredients
✓ Active raw natural keratin technology
*Pure New Zealand wool is a 100% natural material. Farmed throughout the pristine countryside of New Zealand, the sheep grow a thick fleece of wool to protect themselves from New Zealand's harsh winter. This wool is harvested during spring so that the sheep does not have a full fleece during the long, hot summer. During autumn/fall the fleece grows back in readiness for the coming winter. The wool is harvested by shearing, using electronic clippers in much the same way as getting a haircut. Following shearing, the sheep return to the fields to continue grazing and raise their young. No animals are harmed at any stage of the wool harvesting process.
The Smoothe Therapy Treatment is customizable and suitable for all hair types. Whether you lust after less frizz, want to maintain body, bounce and waves or if your desire is to change your look entirely with a straighter result.
WHAT TO EXPECT
The professional in-salon Formaldehyde- free hair smoothing therapy will last in the hair up to 4-5 months without causing damage to the hair. You must use the shampoo and conditioners recommend by your stylist to ensure the longevity of your treatment. Expect to be in the salon for a minimum of 1.5 hours for the treatment to be done, and then you must not wash your hair for 48hours after the treatment.
BENEFITS
Sedates frizz
Rejuvenates and protects hair
Smooths and enhances shine
Drastically reduces styling time and maintenance
Improves overall condition and appearance
Repairs damage
Protects against harmful elements i.e. sun, daily styling and ironing, chemical treatments etc.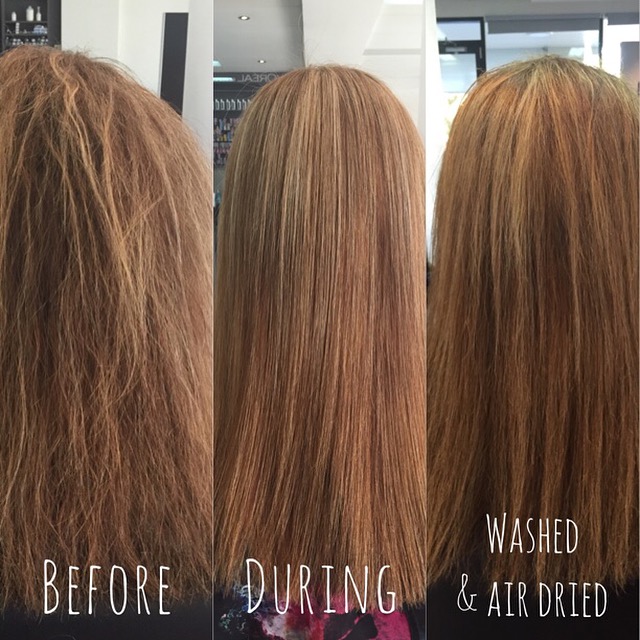 Q Is bhave smoothe keratin therapy right for me?
A bhave smoothe keratin therapy makes hair easy to manage, so anyone who struggles with frizz or has curly and difficult to manage hair is a good candidate.
Q What makes bhave different to other products on the market?
A bhave is a true keratin taming system that does NOT break down, change or build internal bonds in the hair. It cannot be washed out immediately as the keratin requires time to set into the hair.
bhave is formulated with an innovative amino cell rebuild technology that has been specially formulated to penetrate the hair providing health, protection and long-term conditioning. bhave contains argan oil, collagen and silk amino acids to smooth away frizz while adding luminous shine.
Q What kind of results will I get from the bhave smoothe keratin therapy?
A A reduction in frizz, hair will be more manageable and easy to style. You will still be able to wear your hair curly or wavy (depending on your hair type) and enjoy the freedom to blow-dry your hair into any style you want in a fraction of the time.
Q Can I still receive the bhave smoothe keratin therapy if I have highlights and/or colour?
A Yes you can. However, we do advise for best results to have your hair coloured 1 week after the treatment is done, as it can fade your colour, so it is best to have the treatment done BEFORE your colour.
Q Is the bhave smoothe keratin therapy going to make my hair straight?
A All hair types differ. The treatment is designed to make the hair easier and quicker to manage. Some people may be able to 'wash & go' whereas others will have to add some heat to their hair in order to get a straighter result. Note: It is not a chemical straightening service. It is a smoothing service. The desired result depends on your consultation with your stylist.
Q How long does the bhave smoothe keratin therapy last?
A The bhave smoothe keratin therapy lasts up to 4-5 months depending on the hair type and maintenance. You must use the sulphate free shampoo and conditioner that comes with the treatment, as it contains replicine keratin to ensure the longevity of your treatment.
Q Can I apply the bhave smoothe keratin therapy directly on top of other relaxers?
A Yes you can. We recommend that you wait a month after relaxing your hair before having the bhave smoothe keratin therapy.
Q Can I cut my hair before or after the treatment?
A We recommend that you cut your hair after the bhave therapy as it will fall differently and appear longer.
Q Can I use styling products?
A Yes, you can use styling products after the first shampoo/wash.